Funky fun highlights Blues Fest's opening day - by: Leith Dunick -TBNewsWatch.com
"

St. Paul and the Minneapolis Funk All Stars stole the show on Day 1"
From classic rock to country to the blues and the Minneapolis sound, there was a little something for everyone on Friday.
THUNDER BAY – Prince has been gone for more than three years, but his sound will never die. 
Not with bands like St. Paul and the Minneapolis Funk All Stars keeping his legacy alive, still pursuing that First Avenue style made famous by the purple one in the late '70s and early '80s as he burst from the Twin Cities onto the global stage. 
Audiences may have come for Johnny Reid and Tom Cochrane and Red Rider on Friday night as the 2019 Thunder Bay Blues Festival kicked off at Marina Park, but those who came early got a fun-filled taste of the Minneapolis sound. 
Led by St. Paul Peterson, recruited out of high school by Prince himself to play in his band, St. Paul and the Minneapolis Funk All Stars stole the show on Day 1. 
Featuring Jellybean Johnson, who played with Morris Day and the Time and later in The Family, singer Ashley Tamar Davis, who sang with Prince on Beautiful, Love and Blessed, and keyboardist Cassandra O'Neal among the collection of talent culled together by Peterson, the band danced and sang their way through a collection of songs from their past. 
Jungle Love, featured in the iconic film Purple Rain, got the crowd in the mood and then a medley of Prince favourites sealed the deal, a collection that included Cream, U Got the Look, Delirious and Kiss.  
"We were all connected to Prince, except Gene (Lake)," said Tamar Davis, fresh off her scene-stealing performance. 
"I worked with him for years and did a whole album. Paul and the rest came way before my time, but they did all of the Time. All of those original records, that's all them. It was just a blessing to meet them in person and hear them live. They don't age."  
Tamar Davis said it's a blessing to be able to keep Prince's music alive.  
"When he's alive, you're not thinking about carrying on his legacy. You're just living in the moment. Now that he's gone, it's like you have no choice but to carry the sound because the funk was so alive when he was here," she said. 
 https://www.tbnewswatch.com/local-news/funky-fun-highlights-blues-fests-opening-day-26-photos-1558007?fbclid=IwAR16LdpqKyLJ0Yfr8yIz2i40ovhp1mLbAlD6tkKxSOtLuggVwhpO2Ec5E40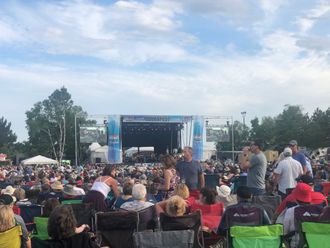 Mpls Star Tribune - Prince Doctorate Celebration -By Jon Bream Star Tribune SEPTEMBER 26, 2018 — 11:03PM
"

Accompanied by a string section, bandleader St. Paul Peterson offered a moving rendition of "Nothing Compares 2 U," which Prince wrote for him to sing in the band the Family.  "
Thanks to a University of Minnesota degree, his name is 'Dr. Prince' now 
An honorary doctorate was given to the late music icon on Wednesday.
Prince received seven Grammys, one Oscar and numerous awards from MTV, the Minnesota Music Academy and other organizations. On Wednesday, he added a posthumous Honorary Doctor of Humane Letters from the University of Minnesota. 
In a ceremony at Ted Mann Concert Hall, Prince was praised for his contributions as a musician, activist, humanitarian, philanthropist and Minnesotan. 
His "impact and legacy are immeasurable," said American Studies Prof. Elliott Powell, who spoke along with the U president, a member of the Board of Regents, a college dean and the director of the School of Music. 
When Tyka Nelson, Prince's sister, accepted the award, she was overcome with emotion. Fighting back tears, she saluted the student musicians onstage and managed a few words: "This is so special. Thank you." 
After the hourlong ceremony, Omarr Baker, Prince's brother, explained why the doctorate was so special. 
"This award ranks higher than all of them," Baker said in an interview. "Because Prince didn't even like award shows. Those are bought and sold. This was earned. It's a lifetime achievement. He'd think this award is on top."
In addition to speeches by U officials, there was live music — by a U student jazz ensemble and a chamber group in tandem with St. Paul and the Minneapolis Funk All Stars featuring former Prince associates plus recent U graduate Cameron Kinghorn. 
Accompanied by a string section, bandleader St. Paul Peterson offered a moving rendition of "Nothing Compares 2 U," which Prince wrote for him to sing in the band the Family.  
"I almost didn't make it through it," Peterson said afterward. "It was emotional."  
A former recording artist, Tyka Nelson, who seldom sings in public, closed the program with an even more emotional reading of "Purple Rain," with Jellybean Johnson playing one of the Purple One's so-called cloud guitars.  
The various musicians said they were honored to participate. But keyboardist Tommy Barbarella, a U alum, quipped: "I actually had to attend class to get my degree."  
This doctorate for Prince has been in the works since 1992, according to Regent Darrin Rosha, who proposed it back then with fellow regent Alan Page. The decision got tabled after Prince changed his name to a symbol, but Rosha revisited the idea when he returned to the board in 2015 after a 20-year absence. When the university approached Prince about it, his response was "Cool."  
Prince was even going to perform a benefit concert for U scholarships in 2016, Rosha said, but the star died in April of that year.  
A 1976 graduate of Minneapolis Central High School, Prince was a longtime advocate for education, donating to such institutions as Harvest Preparatory School in Minneapolis and Gallaudet University in Washington, D.C.  
Prince is the 274th person to receive an honorary doctorate from the U, the school's highest honor. Recipients include poet Maya Angelou, cartoonist Charles Schulz and politician Hubert Humphrey, as well as jazz composer/bandleader Maria Schneider and Minnesota Orchestra conductor Stanislaw Skrowaczewski.  
Baker said Prince's family plans to display the doctorate at the Paisley Park museum.  
Regardless when that happens, musician Johnson declared, "Now we have to call him Dr. Prince." 
 http://www.startribune.com/thanks-to-a-university-of-minnesota-degree-his-name-is-dr-prince-now/494454901/