Click on the right to download an informational 1 Sheet
St. Paul Peterson, a teenage wunderkind who performed keys with The Time in Purple Rain before signing to Prince's Paisley Park label as lead singer of The Family ('Nothing Compares 2 U'), is acknowledged as one of the best musicians to emerge from the Twin Cities.

As the leader of fDeluxe (formerly The Family) St. Paul has been the driving force behind the 2 critically acclaimed comeback albums that have seen the group perform sold out shows in England, France, Holland, Belgium, Australia and Japan, as well as their native USA. Their performance at Carnegie Hall alongside D'Angelo, Chris Rock, Elvis Costello and others received rave reviews from the press, including The Village Voice who exclaimed "...a dominant appearance by fDeluxe, the Prince-curated band which rst saw the light of day as The Family in the mid-80s before being resurrected by frontman Paul Peterson (who goes by the moniker St. Paul) in 2009, whose high- energy funk set -- comprised of Family song "High Fashion" into Prince live favorite "Mutiny" -- was otherwise a master class in bass-driven grooves." 
In the tradition of Motown's Funk Brothers, St. Paul & The Minneapolis Funk Allstars shines the spotlight on those who wrote, produced, performed or sung on some of the biggest hits from the era. From 'Funkytown' to 'fDeluxe' these players are the architects of The Minneapolis Sound. 
An electro funk-rock sound that brought together people of all colours its in uence continues to ripple throughout pop music to this day with artists such as Questlove and The Roots, D'Angelo, Miguel, Dam Funk, Kimbra and many more proclaiming their love for The Minneapolis Sound.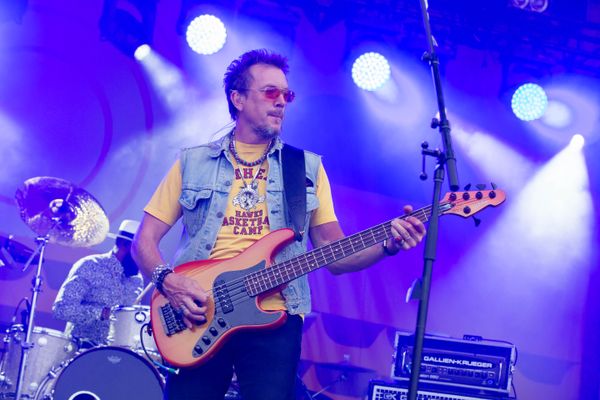 "There is great and there is Greatness. Greatness is the man, the sound, the soul, and the undeniable spirit of St Paul Peterson. My life has been blessed because of him."

Sheila E                                                                                        
"St Paul is one of my favorite artists and bass players for so many years. It's wonderful finally seeing him live. It shows how talented and funky he really is!  Get ready to feel the FUNK!"

Victor Wooten                                                                              
"One of the finest bass players ever!"

Peter Frampton                                                                               
The Minneapolis Funk All Stars
The Minneapolis Funk All Stars are musicians and singers who helped create the "Mpls Sound."
They've either toured with or recorded on the records that shaped the sound of the town.
Here is a partial list, and all appearances are based on budget and availability.
Jellybean Johnson - Guitar - The Time/The Family/Jam and Lewis Producer
Oliver Leiber - Guitar/Producer - Tamara and the Scene/Paula Abdul
Ricky Peterson - Keys/Vocals - Producer for Paisley Park Records/Stevie Nicks/Fleetwood Mac
Jason Peterson DeLaire - Sax/Keys/Vocals - Carmen Electra/Solo/Michael Bolton
Mike Scott - Guitar - Prince and the NPG
For Serious Booking Inquiries